The practice of ziplining has a historical legacy in the region of Geiranger. During the 19th century, this mode of transportation was known as a "trail string" and served as a crucial lifeline for mountain farms and fjord farms.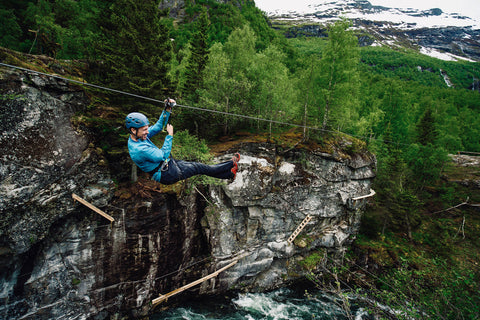 The trail string facilitated the transportation of food, materials, and farm products up and down the mountains, thereby sustaining the region's agricultural practices for several decades. In contemporary times, Explore Geiranger's nature park has repurposed this technology to transport people. While the technology remains largely the same, the function has evolved to cater to recreational pursuits.
Local forces
The development of Explore Geiranger Nature Park was undertaken by Geiranger Bygg and Vinje Fagbygg, two local carpentry companies operating in the Geiranger region. The Via Ferrata component of the park was constructed by Norges Boltefond, while Høtt & Lavt was responsible for the installation of the zipline infrastructure. The financing for this project was predominantly sourced from local businesses and individuals, in conjunction with Innovation Norway. The project development process was spearheaded by Explore Geiranger AS.
Explore Geiranger Nature Park
The Park offers an exciting package which includes several small via ferrata, four Nepalese bridges and four double ziplines. The park derives its name from its original conception in the late 1990s as a designated park area. For a period of two decades, the park remained in an untouched and overgrown state before being revitalized by Explore Geiranger. Presently, the nature park comprises a blend of natural deciduous forest and ornamental trees and shrubs. It is situated along the Geiranger river, with the Dynamite waterfall serving as a focal point. The park's climbing path and four Nepalese bridges provide an exhilarating nature experience that emphasizes the power of nature. Upon the conclusion of the climbing path, guests can transition to the zipline component of the park, which allows them to soar through the air above waterfalls and gorges. The final zipline end in close proximity to the Dynamite waterfall. 

While the nature park is currently under development, it will ultimately emerge as a reimagined and enhanced natural space.