Geiranger is an Eldorado for nature enthusiasts.
The cultural landscape, mountains, waterfalls, cliffs and of course the Geirangerfjord set the frame for the picturesque village.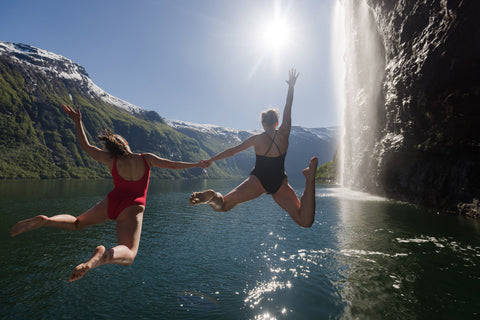 At Explore Geiranger, we want to give guests the opportunity to visit untouched nature, see some of the unique features of the fjord landscape, and offer strong nature experiences in a way that few have done before. It can be as simple and beautiful as a dew-fresh waterfall walk in untouched nature, swimming under the Bridal Veil or climbing up one of the steep peaks that surround the village. It can also be a bit more intense nature experience, such as 80 meters of free-hanging rappelling. We also want to offer exclusive tours to several of the unknown mountain farms along the fjord. In a peaceful setting, you can experience the mighty nature and get a sense of how life was lived on a mountain farm for the farmer and family.
Guides
Explore Geiranger's 8 guides are ready to put together an exciting experience for friends or businesses on tour. These are "signature tours" that must be planned in advance. Each tour will be unique. 
Custom-tailored: 
We will tailor a program for you. You must send a request by email to post@exploregeiranger.no where you tell us a bit about what you can imagine experiencing. Based on your desires, we will send you some suggestions. 
Partners
It is possible to put together combinations of different experiences. Explore Geiranger collaborates with: 
Bonseye AS (RIB)
Geiranger Fjordservice AS (kayaks)
Hotel Union Geiranger AS (hotel)