The Dynamite Waterfall Zipline Park
Explore Geiranger have developed a combination of trails, via ferrata, bridges and ziplines to give our guests a close and exciting nature experience.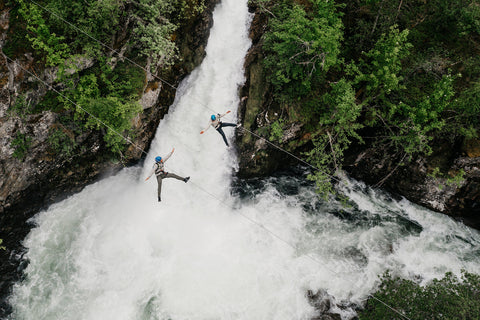 Via ferrata side effects include sweating, euphoria and general happiness. And yes, its awesome fun!
Our park is really a hidden jam in Geiranger, not visible from any road. Originally, the «The Dynamite Waterfall park» was developed in the 1990s, but has been left untouched and overgrown for 20 years before Explore Geiranger took over and began developing the area again. The nature park is a mix of natural deciduous forest and cliffs along the Geiranger river, with ornamental trees and bushes planted around The Dynamite Waterfall.
Via Ferrata
The Via Ferrata consists of two parts that both traverse along the Geiranger river. Approximately halfway, you cross the river back and forth on Nepalese bridges via a tower. Part two of the ferrata offers a fork; go to the right for an easier climb or to the left for a more challenging route. After completing the Via Ferrata, you walk along a ferrata trail where you cross the Geiranger river just above The Dynamite Waterfall. On this bridge you get very close to the forces of the river. On the other side, you walk through the deciduous forest for a short distance before the final Nepalese bridge takes you over to the starting point for the zipline.
Zipline
Norway's first double zipline allows you to fly parallel with another person through four short and longer stretches, with a view of the UNESCO nature from treetop to treetop, over ravines and waterfalls. The park is designed to be both exciting and fun to explore on your own, with a balance between climbing, balancing on bridges, walks in the forest, and the spectacular zipline. You can rent equipment at the guide office and explore the area yourself, with guides stationed in the park to ensure safety for all guests. Create a fun and exciting day with friends or family with us in The Dynamite Waterfall Zipline Park.
Rules
Weight
Age limit Via Ferrata

Age limit for via ferrata: 10 years. Children under 16 must be accompanied by a responsible adult. 
Age limit Zipline

No age limit, but the child must weigh at least 25 kg.
Map
Nepalbridges, Ferrata and Ziplines for your friends, group or family!